Mobile Responsive
A design that is unique to your Homeowner and Condo Association. No matter the screen size, our website designs and secure portal look good and function properly.
Fully Customizable
With expert web designers team, we help your Homeowner and Condo Association grow with visually compelling website designs that engages your audience in a visit.
Communications
Easy to engage with all owners or specific residents per their communication preferences. Keep dialogue productive with Board moderation tools​.
Access Documents
Store and share association documents online. Use our physical mail delivery service of documents and violations when needed.
Innovative Homeowner and Condo Association Webistes
This is an All-In-One cloud based, online platform created for any Homeowner and Condo Association - Allowing everyone involved in a community to be better informed and improve their property values. We have a fast turn-around time with a competitive price point for your community web design needs. But the real revolutionary features included are:
Mobile Responsive - Look great on all devices
SEO Friendly - Rank on top search engines
User Friendly - Update your site and portal easily
Easy Roster Onboard - Fast & easy to onboard all community memebers
Member Directory - A listing of the association's members along with profile details and photos
Email Notifications - Send mass emails to your members
Convinient Communications - Easy to engage with all owners or specific resident
Custom Profile Fields - Unlimited fields with 21 types of field formats to store information on each member
Access Restrictions - Customizable controls to limit which members can see which pages on your HOA website
Reporting - Understand the state of your community through our intuitive reporting functionality
Your Data is Safe - Community data is safe and secure using bank-level encryption.
Event Calendar - Keep the community informed of board meetings and important events
Maintain Continuity - Make transitioning between board members a breeze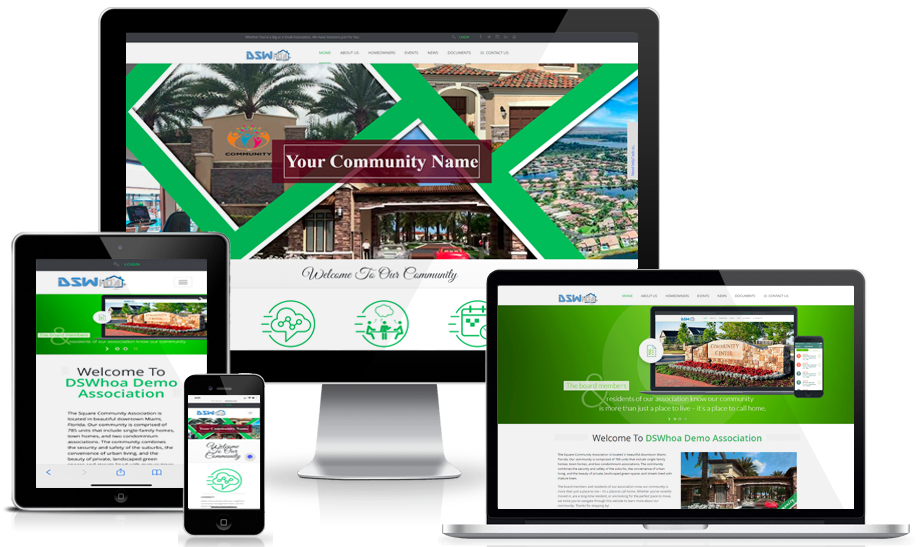 Online Payments - Members can pay their HOA online
Custom Forms - Create unlimited custom forms for members to submit along with tracking through the website
Online Voting - Use a questionnaire to ask members multiple questions and tally the results
Ticketing Workflow & Reporting - File maintenance request and get notified as they are updated
Access Documents Anytime - Store and share association documents online
Member Notifications - Send notifications to members as new posts, events and maintenance request are updated
Managed Support – Perhaps the most important feature we can provide that differentiates us from a template website design and others...

– Upon request, we will manage your content for you! We'll upload your weekly or monthly documents, events, and notices required. So you can worry about what matters most - your association. No need to be computer savy.
Interactive, Responsive and Custom Homeowner and Condo Association Webistes
Our HOA websites are Interactive, Innovative, Responsive and custom designed tailored to meet your Homeowner and Condo Association goals. Working with professional web designer in the industry, we create immaculate responsive web design that speak for themselves. Make your custom Homeowner and Condo Association website stand-out of the crowd while being easy to use at all times. Our company holds the tools and techniques to provide you with the most unique, efficient and feature-rich HOA websites. Click below to view samples: